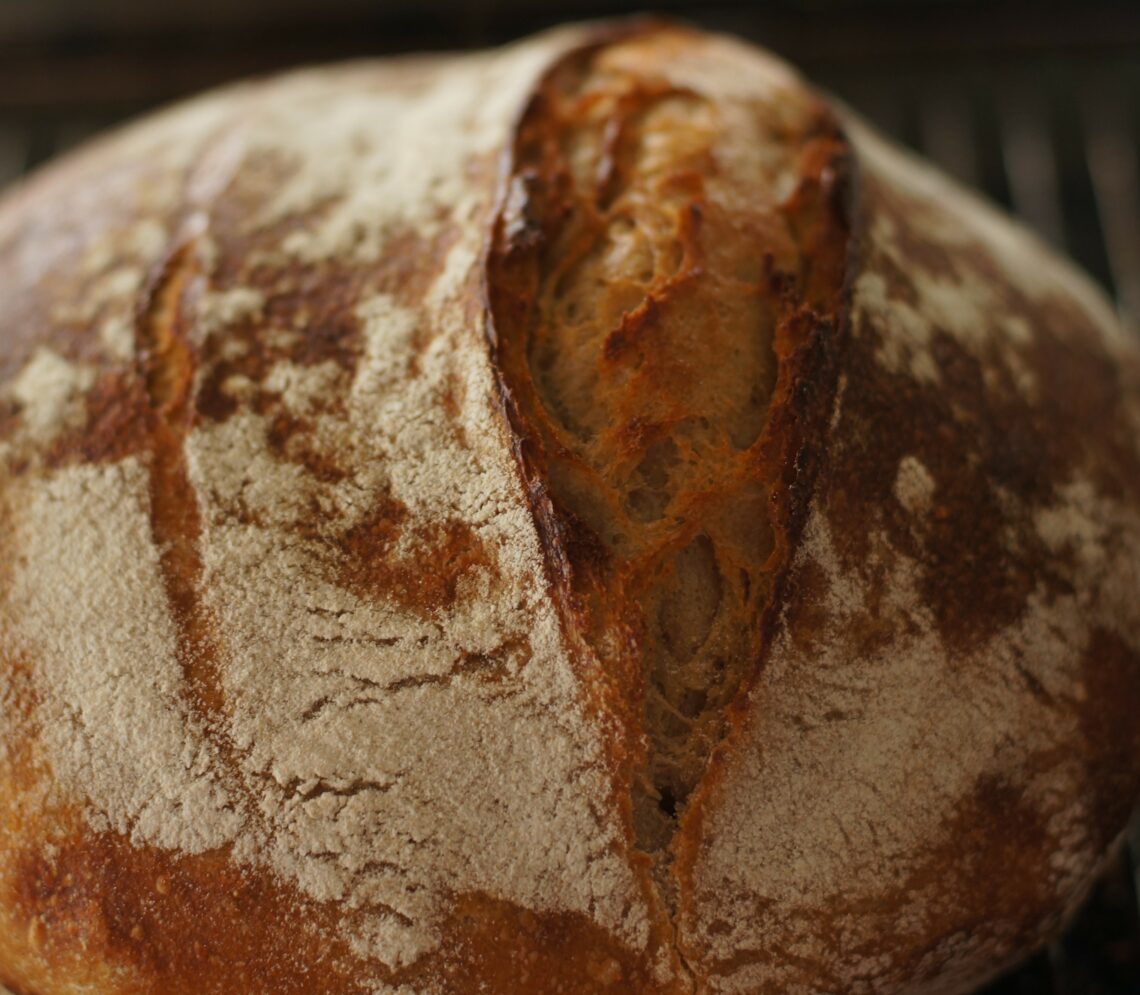 How to make Sourdough Bread
Timing:
This is an overnight recipe and it's best to start making it the day before around 12 to 1pm.
What you need:
First of all, you need 1/2 cup of bubbly sourdough starter.
I make sourdough bread every other day and I feed my starter with 1/2 cup whole wheat flour, 1/2 cup water, then I put it in the fridge. I take it out of the fridge in the morning of the day I'll make bread and let it sit at room temperature for 1-2 hours.
///
Zamanlama:
Bu tarifte hamuru geceden kabarmaya bırakacağımız için,ekmeği yapmaya pişirmek istediğimiz günden bir gün önce, öğlen saat 12-1 gibi başlamamız gerekiyor.
Neler lazım?:
Herşeyden önce yarım bardak aktif,baloncuklanmıs ekşi mayaya ihtiyacımız var.
Ben gün aşırı ekmek yapıyorum ve her ekşi maya kullandıktan sonra onu 1/2 bardak tam buğday unu ve 1/2 bardak suyla besleyip buzdolabına koyuyorum.Ekmek yapacağım günün sabahı dolaptan çıkartıp,1-2 saat oda ısısında bekletiyorum.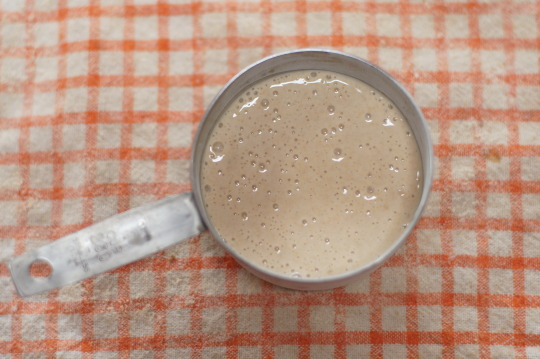 After taking aside 1/2 cup of the starter, feed it with 1/2 cup flour 1/2 cup water.Mix it well with a wooden spoon, close the lid and put it in the fridge.
//
1/2 bardak ekşi mayayı bir kenara ayırdıktan sonra kalanını 1/2 bardak un ve 1/2 bardak suyla besleyin.Tahta bir kaşıkla iyice karıştırıp, dolaba koyun.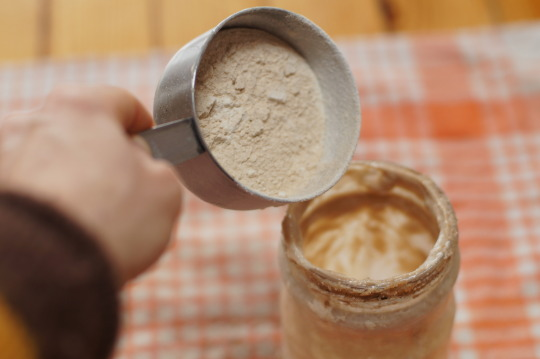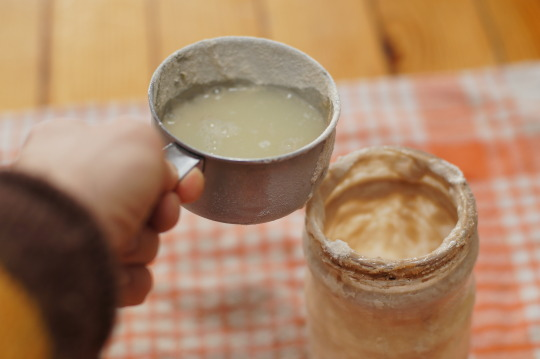 Sourdough Bread Ingredients:
1/2 cup bubbly sourdough starter
4 cups flour (I use 2 cups whole wheat, 2 cups white).You can also use all whole wheat flour even emmer flour with this recipe.
2 cups water or whey (whey works very well, I use it all the time)
1 teaspoon salt
//
Ekşi Mayalı Ekmek için Gerekli Malzemeler:
1/2 bardak aktif ekşi maya
4 bardak un (ben 2 bardak tam buğday (Kavılca unu), 2 bardak beyaz un (kırmızı buğday unu) kullanıyorum). Ama hepsini tam buğdayla sorunsuz olarak yaptığım da oluyor.
2 bardak su ya da peyniraltı suyu (peryniraltı suyu çok güzel oluyor)
1 tatlı kaşığı tuz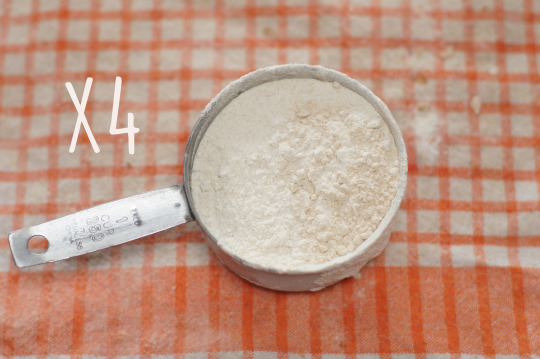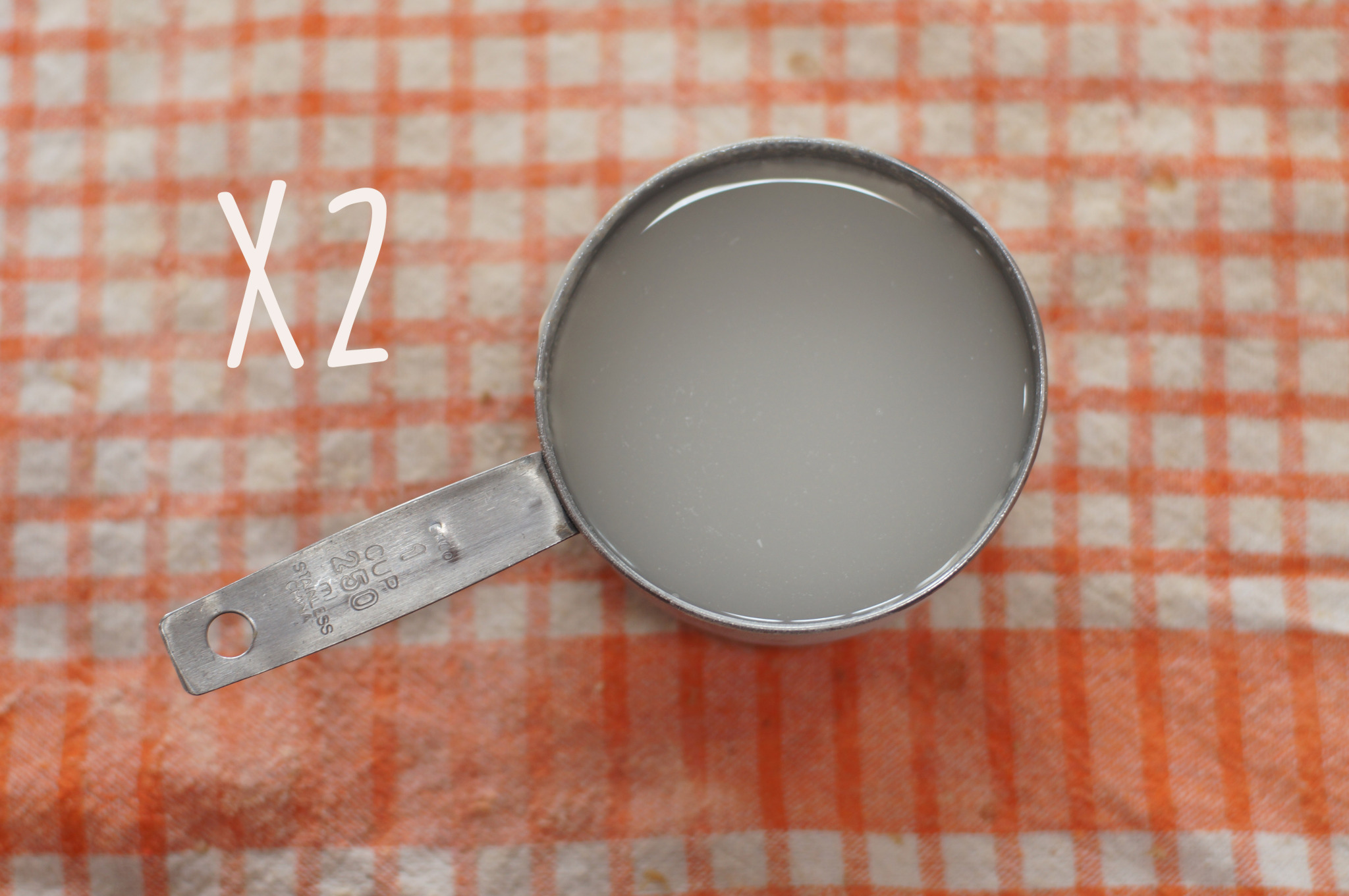 ---
Mixing the ingredients:
First dissolve the sourdough starter by adding 2 cups of water.
//
Malzemeleri Karıştırın
Önce ekşi mayayı, üzerine 2 bardak su ekleyerek iyice çözün.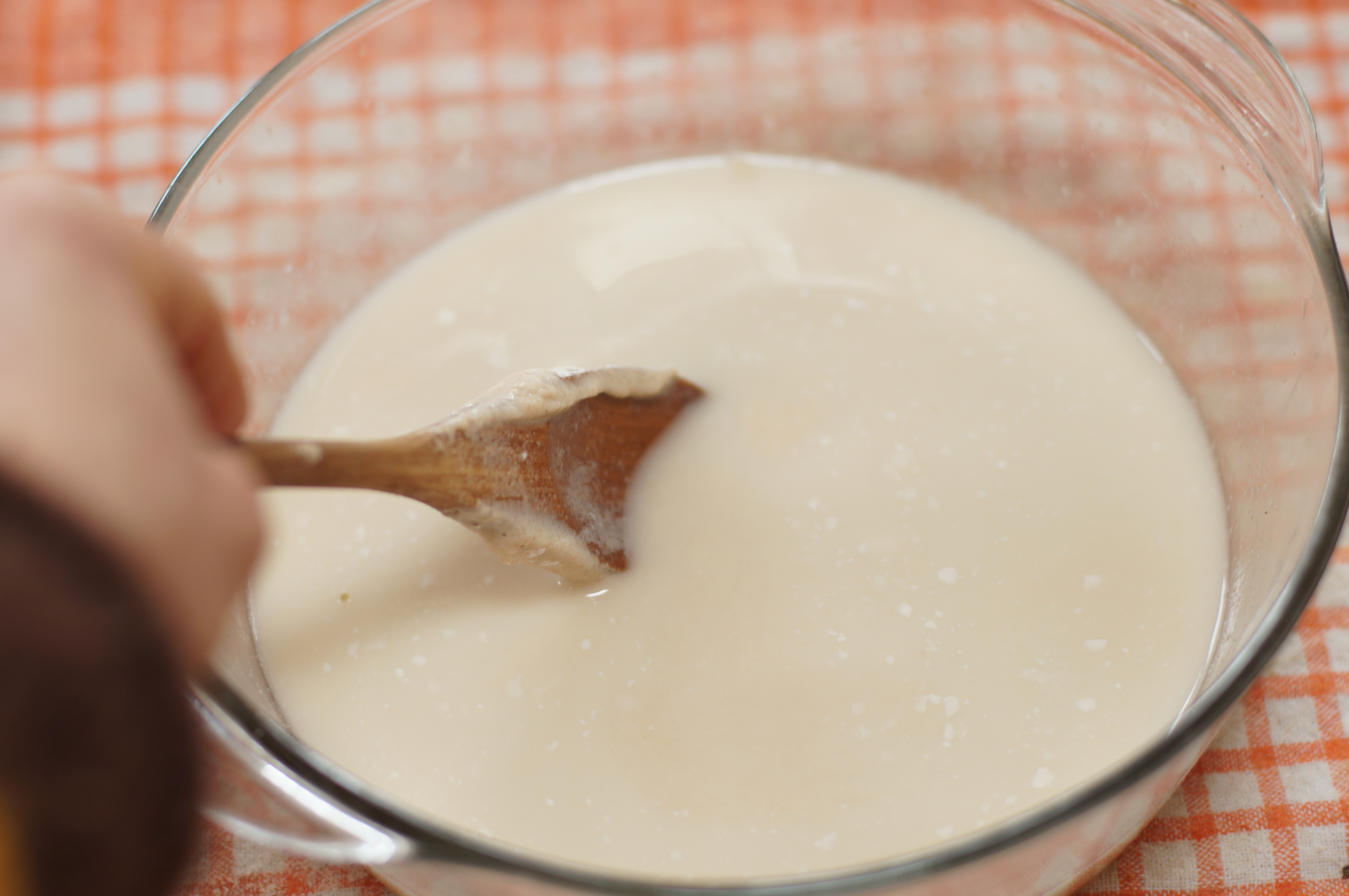 ---
Then add the flour 1 cup at a time, mixing it thoroughly
Sonra her seferinde 1'er bardak un ekleyerek karıştırın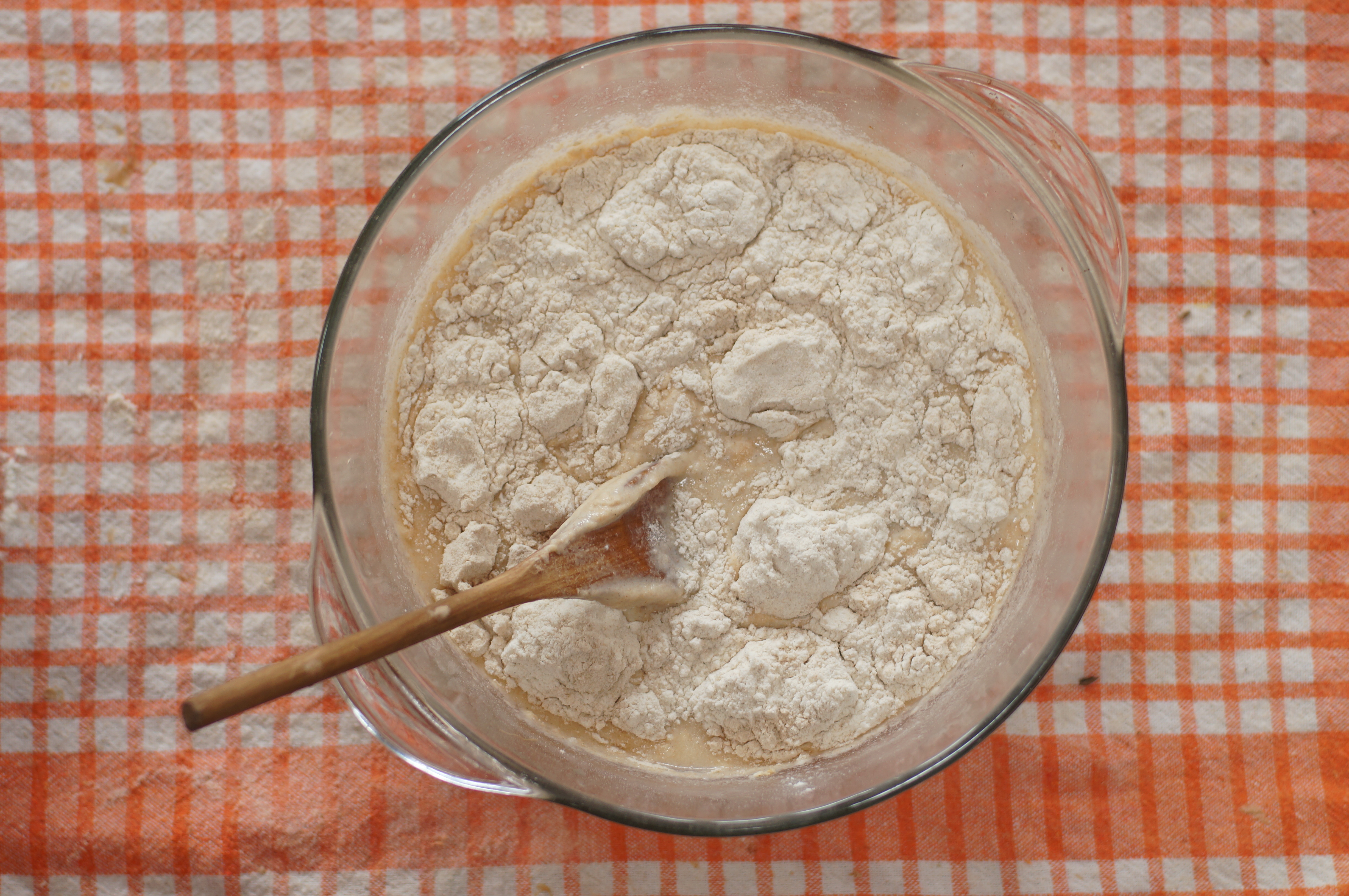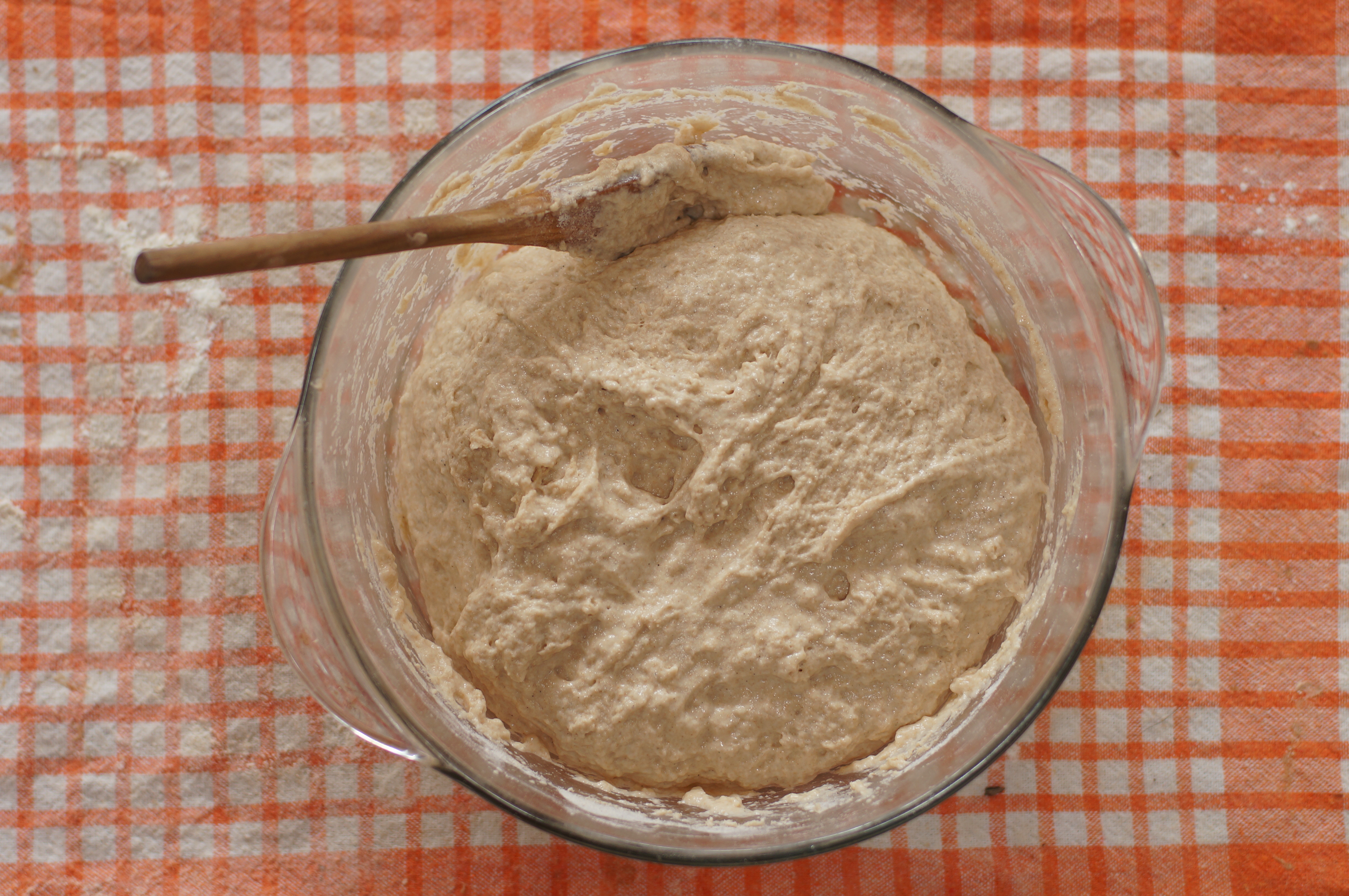 ---
Now cover it with a cloth and place it in a warm place for 30-40 minutes.
Tip: Don't place it next to the woodstove or radiator, because from my experience, it makes the sourdough overwork. A place where it's 18-20 °C (65-68°F) is fine.
//
Üzerini bir bezle örterek ılık biryerde 30-40 dakika bekletin.
Not: Sobanın ya da kaloriferin yanına koymayın, çünkü tecrübelerime göre fazla sıcaklık ekşi mayanın gereğinden fazla çalışmasına yol açıyor. 18-20°C'lik bir ortam sıcaklığı yeterli.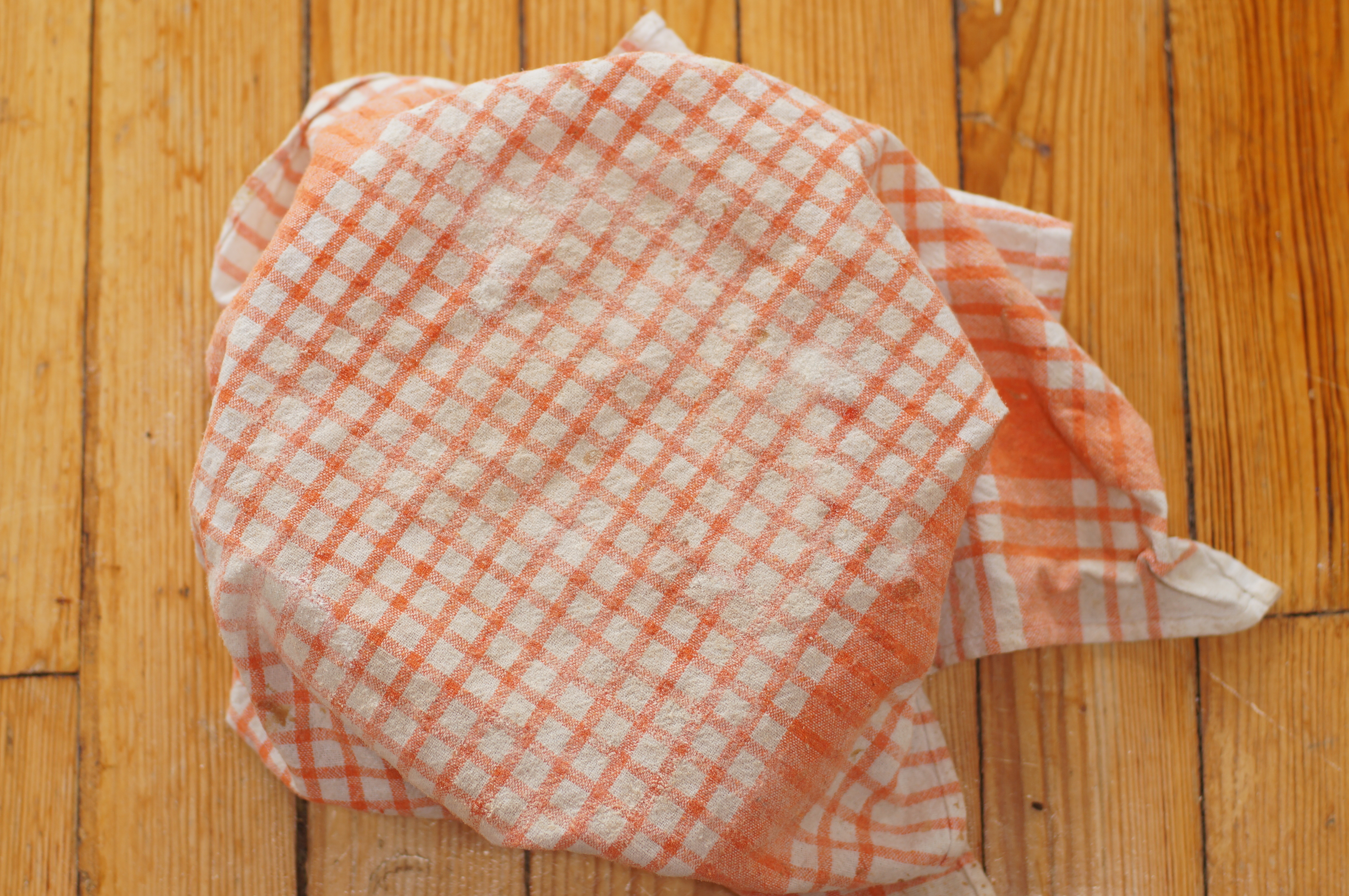 After 30 minutes or so, make your first folds.
Lift one side,
//
Yarım saat kadar sonra ilk katlamalarınızı yapın.
Hamurun bir tarafını çekerek kaldırın,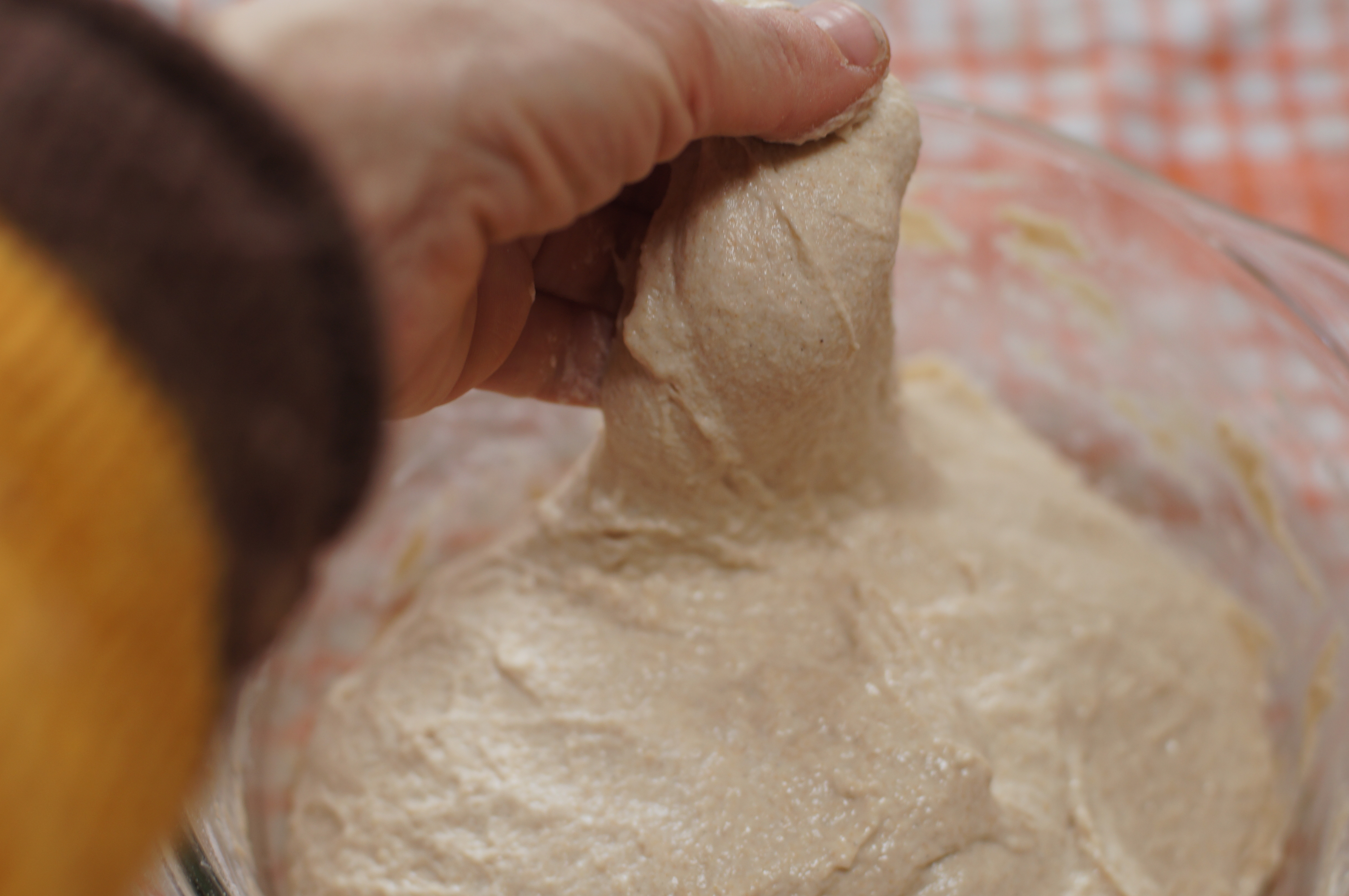 and fold it over
//
ve katlayın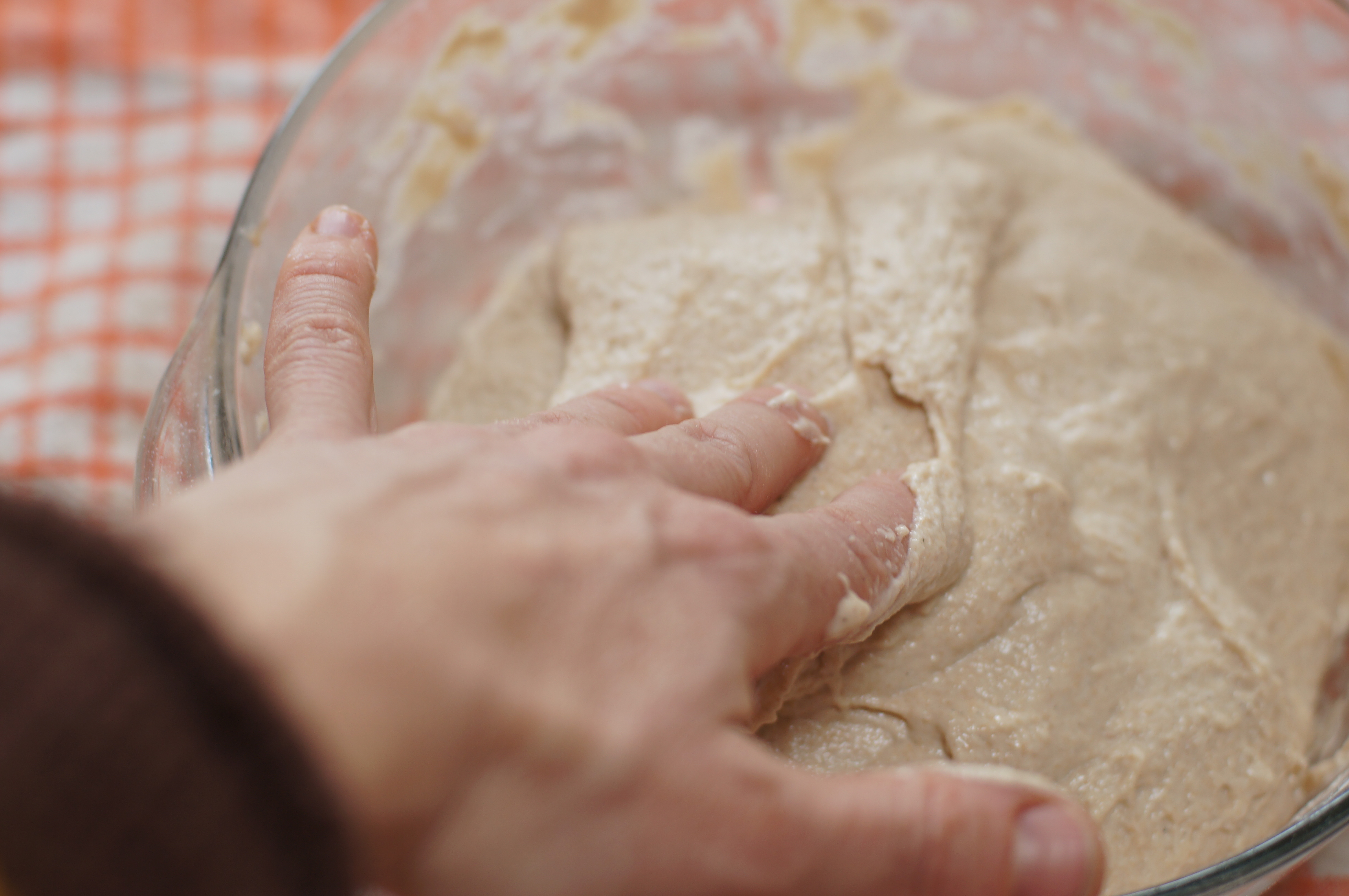 Repeat this for all the sides, by turning your bowl 1/4 turn. Here's a video how:
//
Bu işlemi diğer taraflar için de uygulayın
İşte katlamayı gösteren video:
Sprinkle a teaspoon of salt
//
1 tatlı kaşığı tuz serpin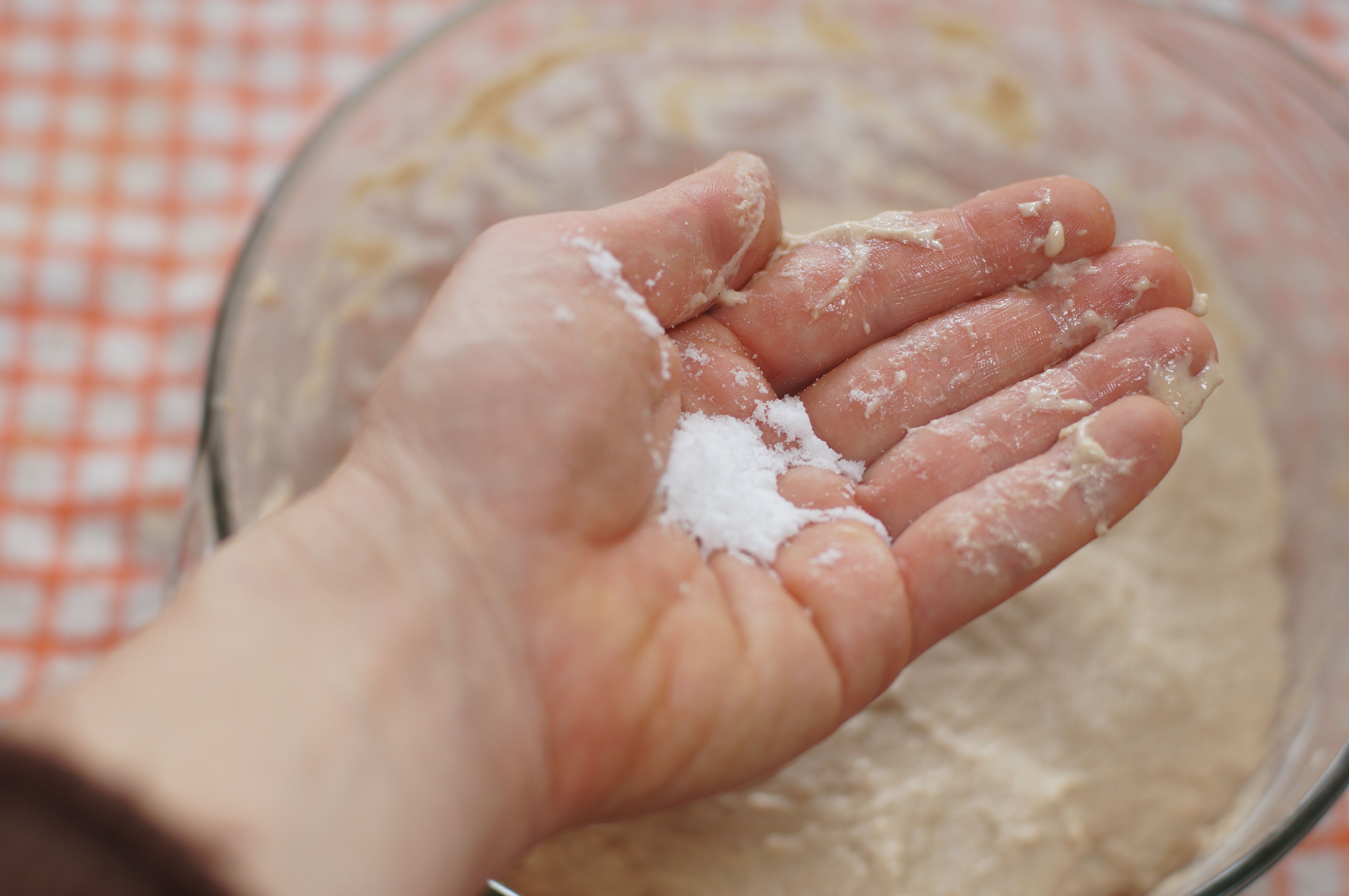 Then make another round of folds. It will look like this at the end:
//
Bir tur daha katlama yapın
Sonunda böyle görünecek: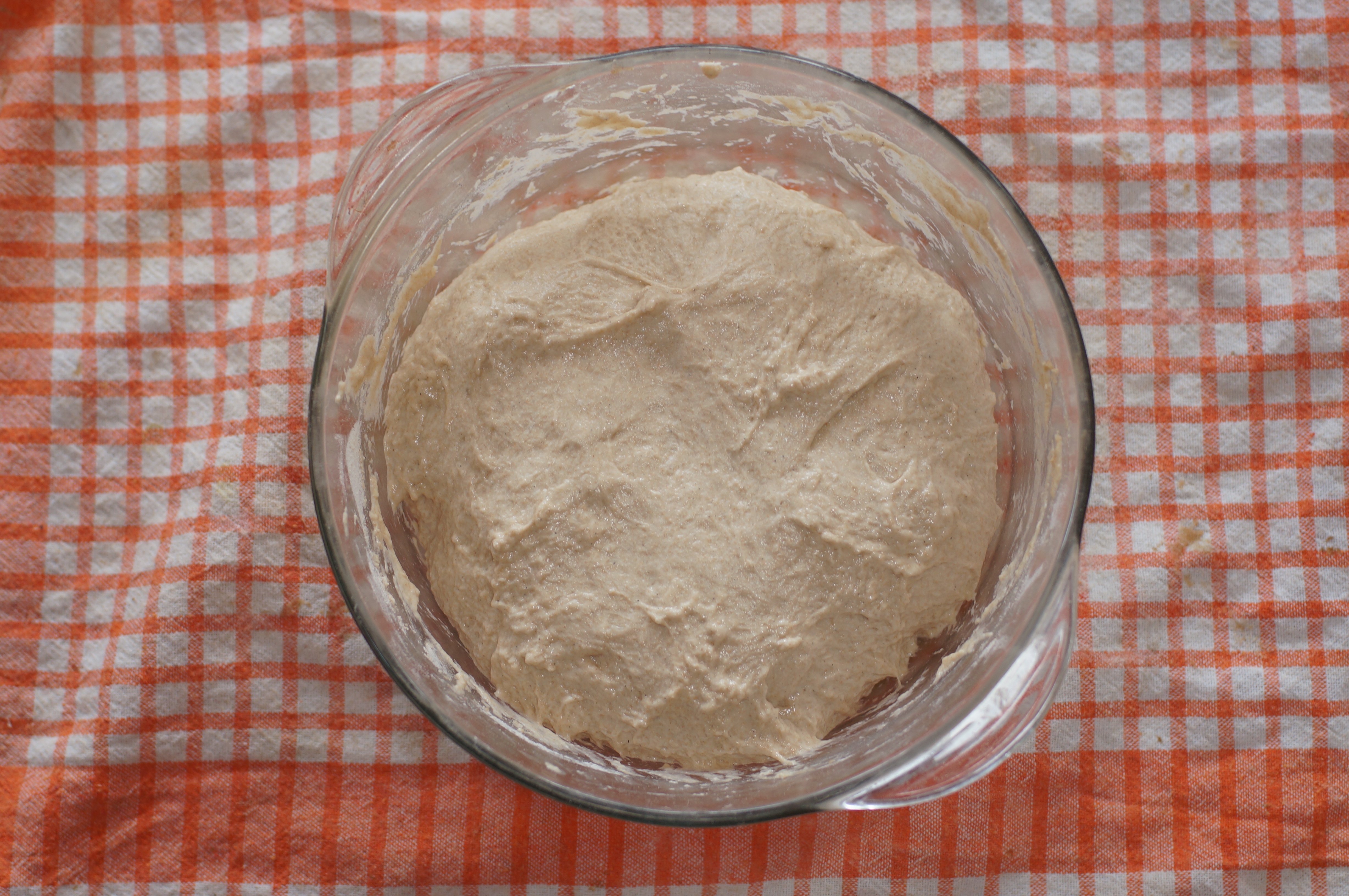 Cover with a cloth and leave it for 30 minutes. Make a total of 4 folds in 2 hrs in 30 min. intervals.
//
Üzerini bezle örtüm ve 30 dakika bekletin. 2 saat içinde yarım saat arayla toplam 4 tane katlama yapın.
---
After finishing your folds, cover your dough and leave it to rise for 3-4 hours.
//
Katlamalar bittikten sonra hamurun üzerini örterek 3-4 saat kabarmaya bırakın.
---
Now let's shape the bread!
//
Şimdi ekmeğe şekil verme zamanı!
---
After covering the bread with cloth, put it in the fridge until the next morning.
//
Ekmeğin üzerini örttükten sonra ertesi sabaha kadar buzdolabında bekletin.
---
In the morning, pre-heat your oven to 240°C (464°F ) . While its heating, take out your dough from the fridge and transfer it to the lid of the glass bowl. Before transferring, make sure you lightly oil the surface and sides of the lid and sprinkle some flour. This will prevent your bread from sticking.
Then with a sharp knife make two quick slashes on the dough (scoring).
//
Sabah fırınınızı 240°'ye ayarlayıp, ısıtmaya başlayın. Bu arada hamuru buzdolabından çıkartıp, borcamın kapağına aktarın. Ama önce borcamın kapağının her yüzeyini hafifçe zeytinyağıyla yağlayın ve üzerine biraz un serpin.Böylelikle ekmeğin yapışmamasını sağlamış oluyorsunuz.
Ekmeğin üzerine keskin bir bıçakla, hızlıca iki tane kesik atın.
---
Close the bottom part of the pyrex bowl on top, as a lid. This will provide steam while baking.
Bake it for 25 min. in 464°F.
///
Borcamın alt kısmını kapak gibi üzerine kapatıp fırına yerleştirin (kapak ekmeğe buhar sağlayacak)
25 dakika 240°'de pişirin.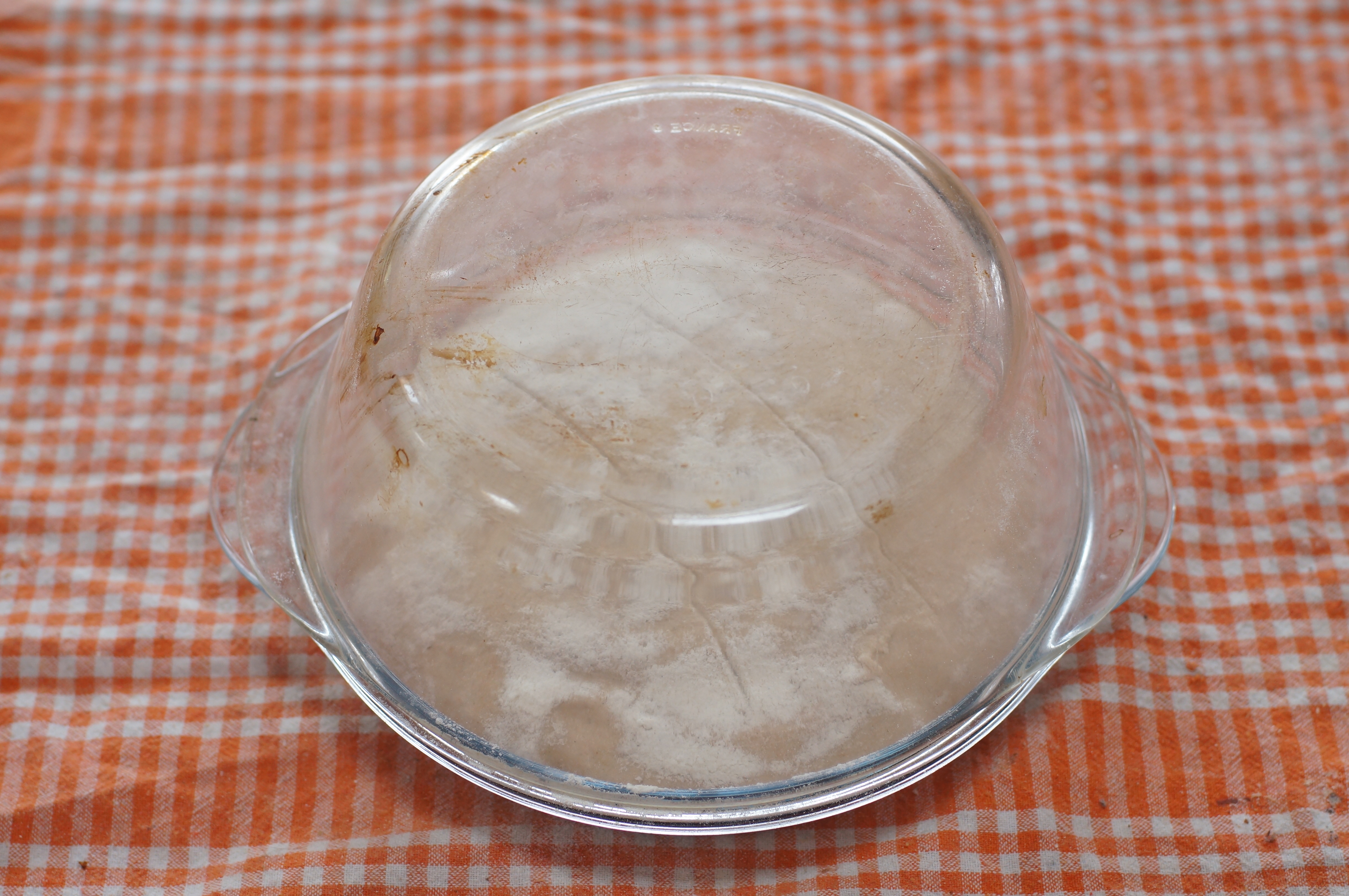 ---
Lift the lid and bake it for another 15 minutes in 356°F.
(When I bake bread in the oven compartment of our woodstove, first of all we get the fire going well. After checking with my hand if the oven is heated, I place the dough in. I bake it for 45 minutes with the lid on, and 5-10 minutes more without the lid).
////
25 dakika sonra iyice kabarmış olacak.Şimdi kapağı çıkartıp, üzeri açık olarak 15 dakika daha 180°'de pişirin.
(Ekmeği kuzine sobamızın fırınında yaptığımda, sobayı harlıyoruz, iyice yanarken ve fırnın içi ısınmışken ekmeği koyuyorum.Elektrikli fırın gibi hep aynı ısıda yanmadığından 45 dakika kapaklı, 5-10 dakika da kapağını çıkartıp pişiriyorum)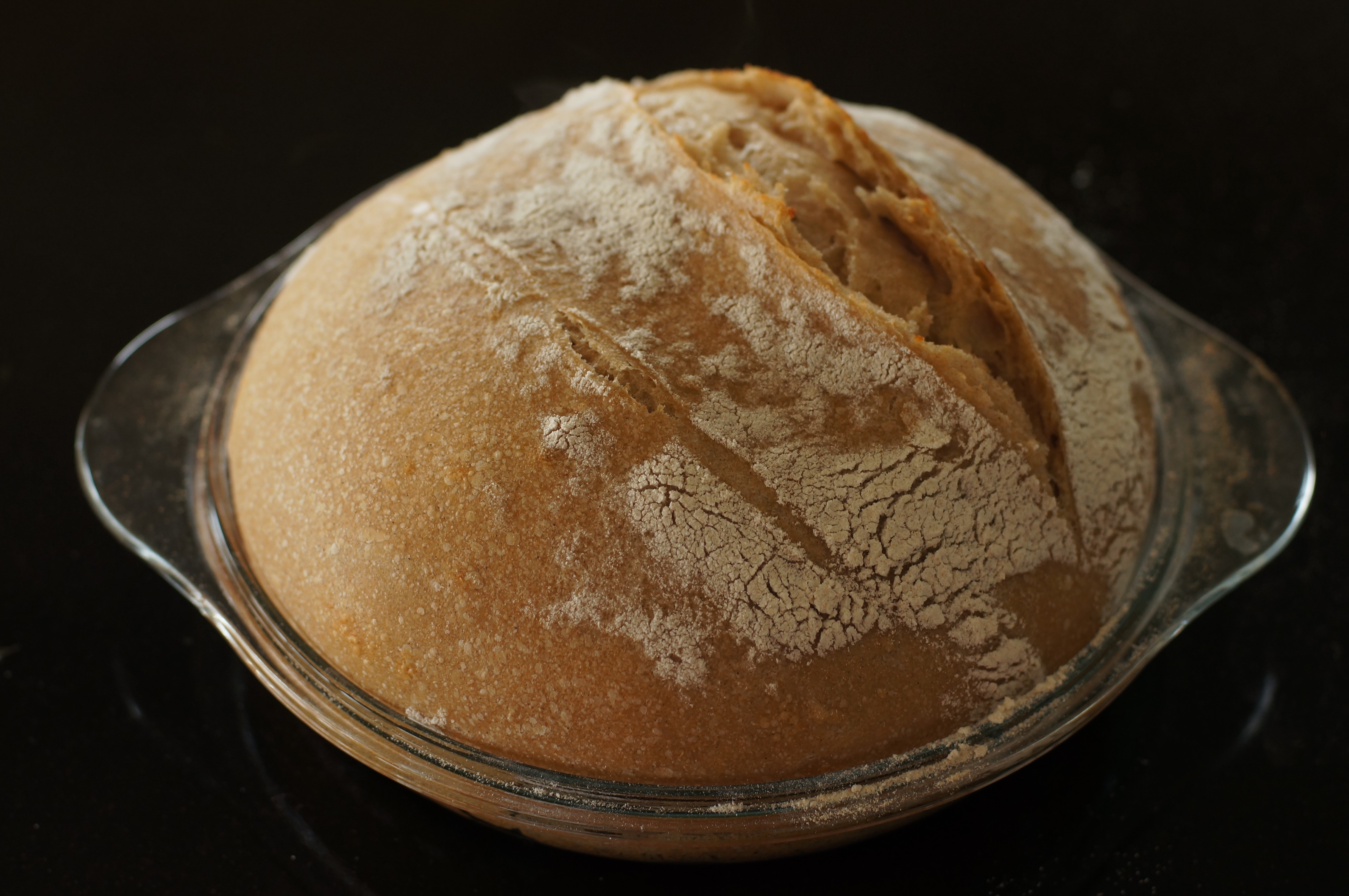 ---
After 10-15 minutes take it out of the oven
//
10-15 dakika daha piştikten sonra fırından çıkartın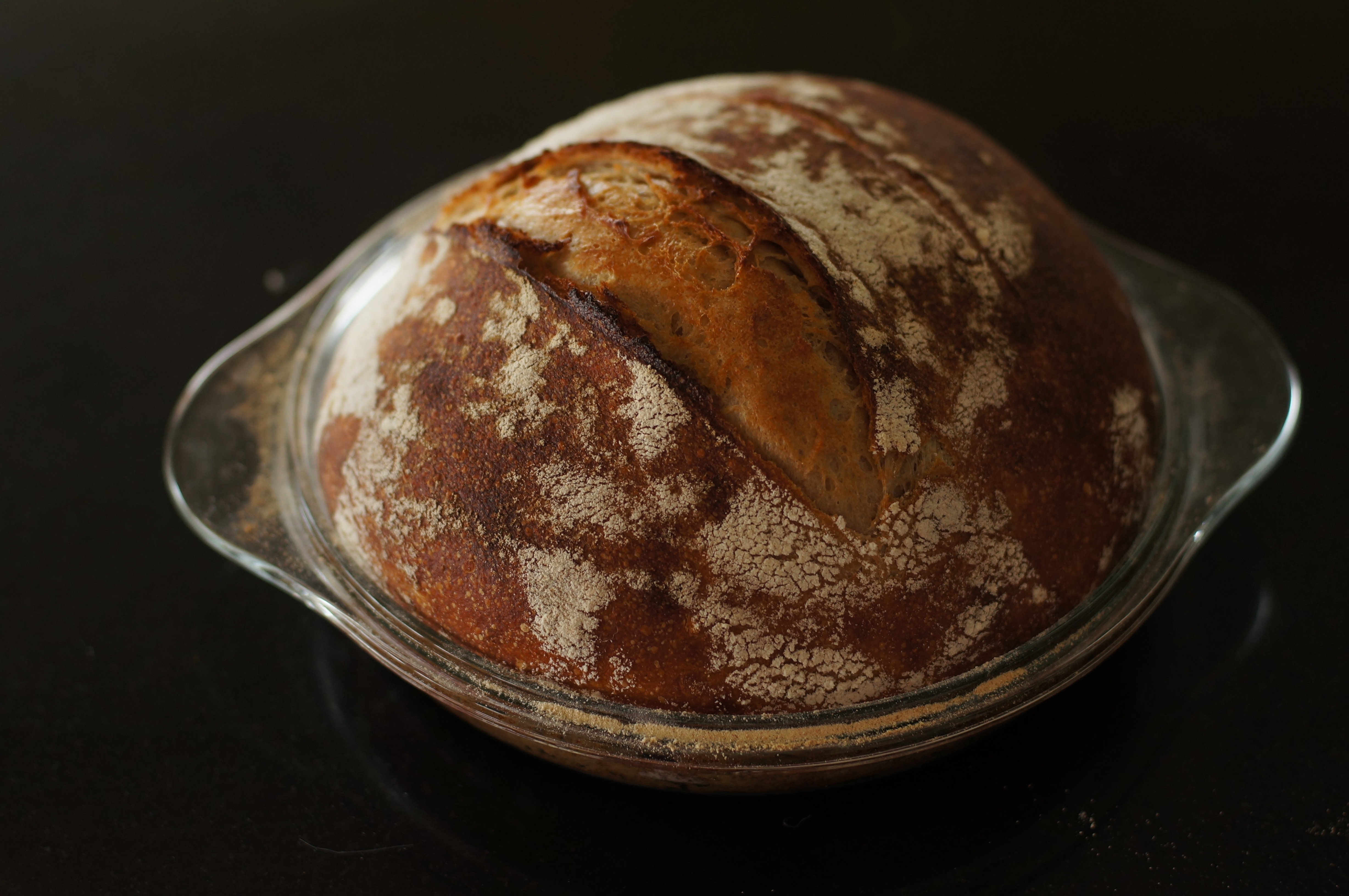 ---
With a little help from a butter knife, take the bread out and place it on a rack to cool it. Make sure to cool it until it's no longer warm to touch. Never slice it right after it's baked, it will become doughy and mushy! Be patient and wait for 1 hour or so.
///
Bir bıçak yardımıyla ekmeği kaptan çıkartıp, bir ızgara üzerinde soğumaya bırakın.
Dokunduğunuzda sıcak hissedilmeyene dek soğusun. Sakın hemen fırından çıkarır çıkarmaz kesmeye kalkmayın, içi hamur hamur olur! Sabırlı olun ve 1 saat kadar soğumasına izin verin.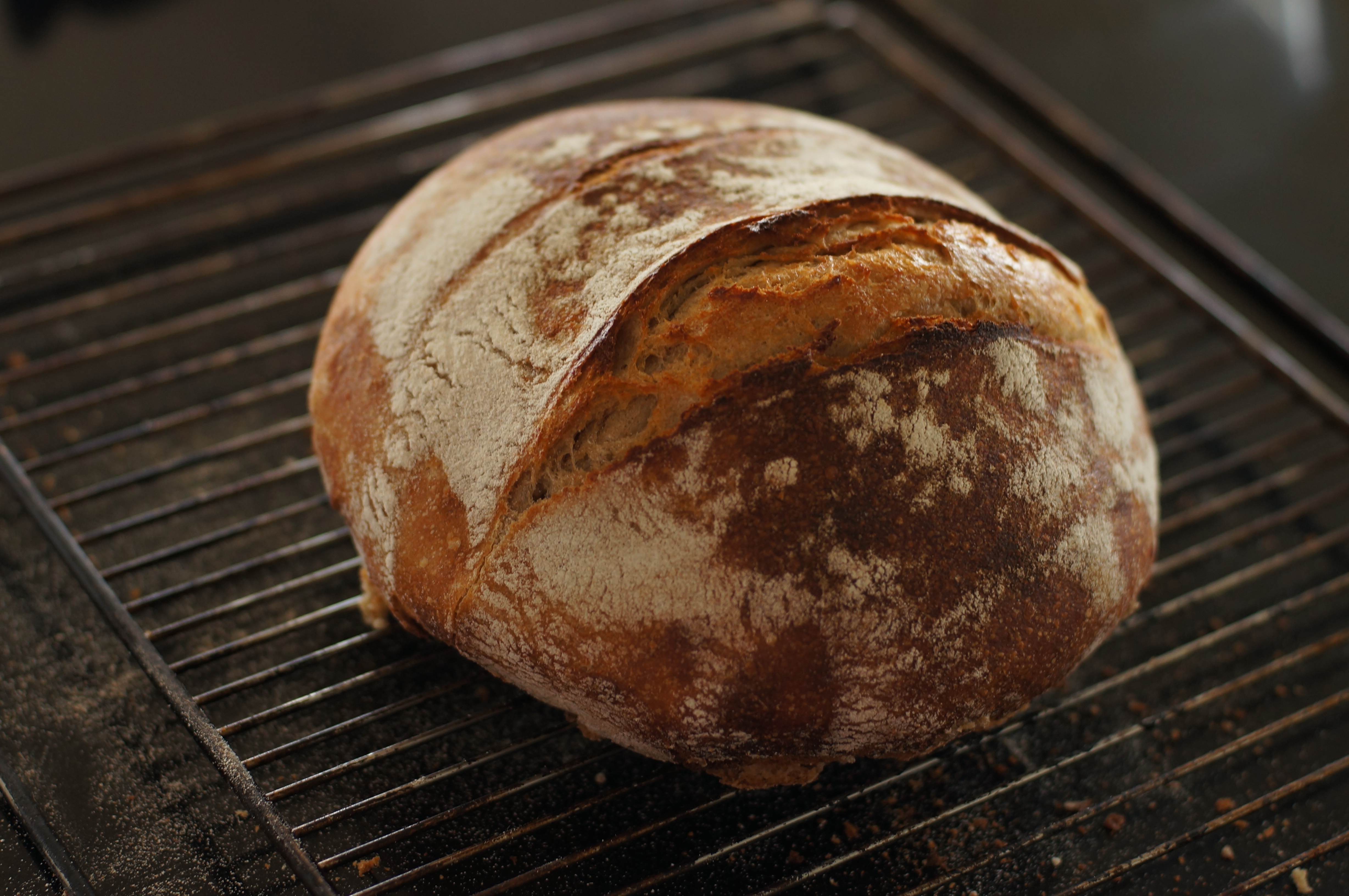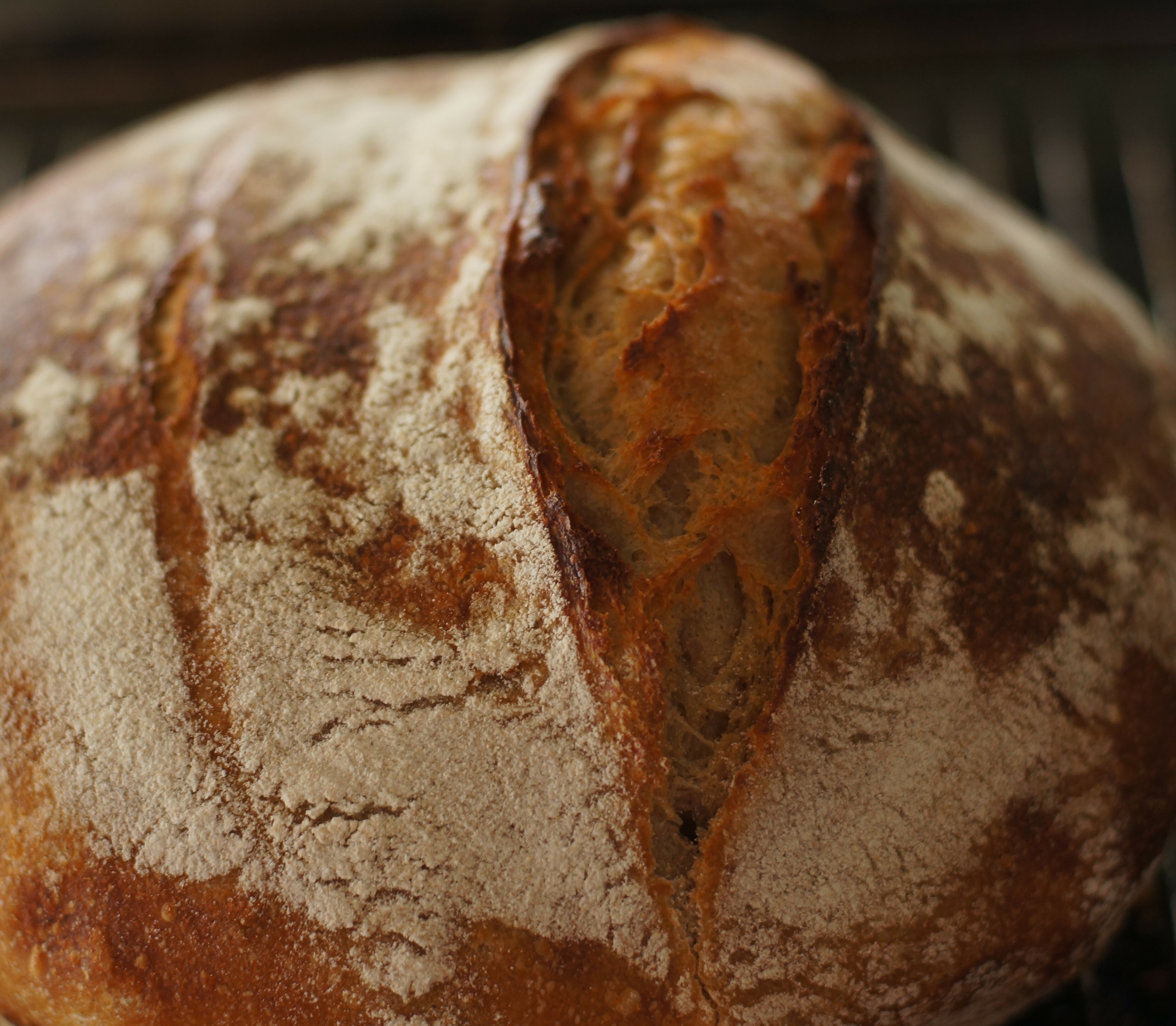 Your bread is ready!! Now you can bake many many breads whenever you like!
If you have any questions, don't hesitate to ask me!
//
Ekmeğiniz hazır! Artık isteiğiniz zaman istediğiniz kadar ekmek yapabilirsiniz!
Eğer bir sorunuz varsa bana sormaktan çekinmeyin!